Events
Upcoming and recent events are listed below.
Event Sponsorship
Interested in becoming a Global Sponsor for 2016? Information about our Sponsorship Package can be found here. To sign up or get more information, please contact us.
Upcoming Events
DVCon United States
February 29 - March 3, 2016
DoubleTree Hotel
San Jose, CA
dvcon.org
DVCon attendees have the opportunity to take part in the many informal, but often intense, technical discussions that pop-up around the conference venue among 800+ design and verification engineers and engineering managers. This networking opportunity among peers is possibly the greatest benefit to DVCon attendees. DVCon attendees have access to the vendors of advanced design and verification tools, IP/VIP and services who exhibit at the conference.

Accellera Day at DVCon U.S.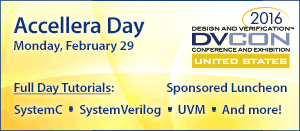 Monday, February 29, 2016
9:00am-5:00pm
Full day tutorials — UVM, SystemC, SystemVerilog, and more
Accellera-sponsored Luncheon
DVCon Expo and Booth Crawl
DVCon India
September 15-16, 2016
The Leela Palace
Bangalore, India
dvcon-india.org
Call for abstracts open >
Proposals due May 17
Call for tutorials open > 
Proposals due May 17
DVCon Europe
October 19-20, 2016
Holiday Inn Munich City Centre
Munich, Germany
dvcon-europe.org
Call for papers open >
Draft papers due April 7
Call for tutorials open >
Proposals due April 14
2016 Global Sponsors
Become a sponsor. Sponsorship of events provides many benefits including awareness and targeted lead generation. If you would like information on sponsoring an event, please contact us.

Presentations from Past Events
Presentations from past events are available for download.