Accellera Day at DVCon U.S.
Accellera Systems Initiative invites you to a special day dedicated to technical standards at the 2016 Design and Verification Conference U.S. in San Jose, CA. Find out the latest in EDA and IP standards being developed and implemented by today's leading electronics companies.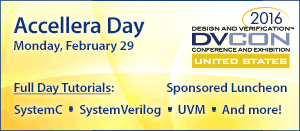 Monday, February 29, 2016
9:00am-5:00pm
Full Day Tutorials:

Preparing for IEEE UVM Plus UVM Tips and Tricks
SVA Advanced Topics: SVAUnit and Assertions for Formal
Cut Your Design Time in Half with Higher Abstraction
SystemVerilog-AMS: The Future of Analog/Mixed Signal Modeling

Accellera-sponsored Luncheon
DVCon Expo and Booth Crawl
Join us at this day-long event to connect with experts and users as we learn, share, and network on the latest in standards innovations!
UVM-SystemC Public Review
The SystemC Verification Working Group (VWG) will soon make available an early UVM-SystemC Language Reference Manual (LRM) accompanied by a Proof-of-Concept (PoC) implementation for public review. The purpose of this public review is to obtain feedback on the LRM and PoC distribution. The working group is looking for discrepancies versus the standard and simple install/documentation issues against the supported platforms. More details >
Featured Events
DVCon U.S.
Feb 29 - Mar 3, 2016
San Jose, CA
dvcon.org

DVCon India
Sep 15-16, 2016
Bangalore, India
dvcon-india.org
Call for abstracts open | Due May 17
Call for tutorials open | Due May 17
DVCon Europe
Oct 19-20, 2016
Munich, Germany
dvcon-europe.org
Call for papers open | Due April 7
Call for tutorials open | Due April 14
Subscribe to our mailing list: